Overview
Tartan's patented Motor Head Assembly (MHA) is designed and constructed to provide the convenience of a single motor head tool for connecting to coiled tubing or jointed pipe. The MHA comes complete with a dual float sub, hydraulic disconnect and circulation sub.
The Tartan hydraulic disconnect is designed to release tubing from the tools below it via a steel ball, which is pumped or dropped to the internal seat. Hydraulic pressure is then applied to shear the shear pins and push a piston down to release the lock.
Application
Operates as a hydraulic disconnect
Cleans the wellbore after drilling operations are completed
Features and benefits
One run accomplishes casing cleaning and drilling out obstructions
Thoroughly cleans casing wall due to rotation
Reduces rig time by eliminating a separate cleaning run
Decreases operational costs
Nine adjustable floating blades for multiple casing weights/IDs
Improves completions drilling efficiency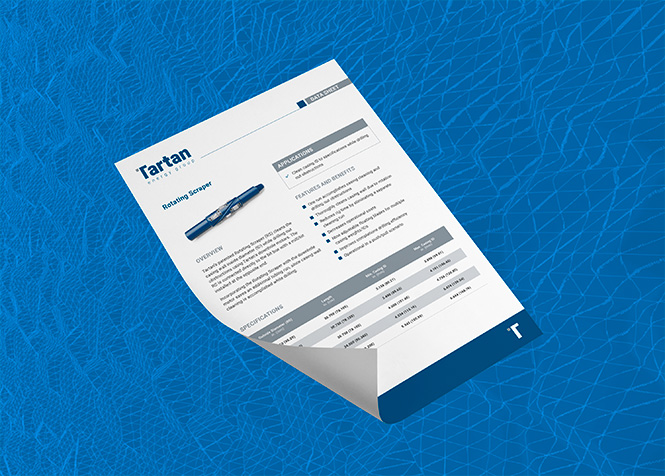 Fill out your information to receive the Motor Head Assembly data sheet.
What Our Customers are Saying
"EOG has dealt with Tartan Completions since 2010, during which time they provided us completions equipment and services in our Rockies Region in the USA. Tartan has helped EOG lower costs through increased efficiency and equipment reliability and have always provided knowledgeable operational support for our daily completions operations. We can confidently recommend Tartan Completions as a solid and reliable supplier, and experts in completions equipment and services."
"Tartan Completions has been providing Crescent Point Energy with downhole milling services since 2009 when they started milling out frac ports in Saskatchewan. They have completed hundreds of jobs for us and still are our trusted service provider to do milling and fishing work in both Alberta and Saskatchewan. For any company looking for downhole milling services, we highly recommend Tartan Completion's continued repeatable and reliable services and support."
Crescent Point Energy Group
Ask us how we can help you meet your company objectives.
Complete the form below.